What's new in our school?
Check the courses we're planning to open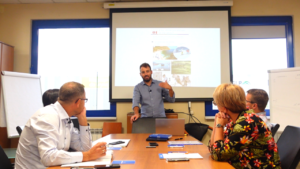 Learning
We are organizing something unique for the professionals who would like to improve their skills in business Italian and make networking at the same time.
Read More
Your first school in Prague based on
expats' needs
We offer a wide range of courses in many languages, both for the public and companies, in our language school based in the centre of Prague, in your office, or online.


We provide translation and interpreting services in a range of language combinations
thanks to our team of multilingual and expert translators.


We arrange fascinating tours in different languages to discover the history,
monuments and secrets of the enchanting city of Prague.


What our clients say about us
Being an expat is challenging if you don't know the local language. Check how we we helped Eduardo to learn Czech and enjoy his time in Prague even more. 
We've been cooperating with Language Atelier for over three years and we couldn't have chosen a better partner for improving the language skills of our employees. As an office manager, I really appreciate the fast and always kind communication with Lorenzo and Erica, which are always willing to help me in any emergency situation. Their lectors are highly educated professionals and all of us look forward to every single lesson. I cannot recommend any better school.
I've been studying German with Language Atelier for almost one year and I'm fully satisfied with their services: they did many efforts to accommodate my requests and the result is brilliant. My current teacher Laura is great and helping me to improve my German on consistent growth, she's really professional, patient, and friendly. The director is also great; he keeps following our progress and my satisfaction monthly basis which I appreciate a lot. I highly recommend Language Atelier for their professionalism, flexibility, and reliability.
When I was looking for a Russian intensive course in Prague was pretty easy to choose Language Atelier: I looked for different schools but in the end I got a really nice reply from Language Atelier: it was very fast and they immediately answered to my questions, I had the feeling that all my questions were answered and I received the right kind of support because they could offer me exactly what I had in mind….at the end I had certain ideas and certain wishes and what I like most of the school is that the teachers are really interested in going in the direction I need right now.
Follow us on Instagram and on Facebook
 We keep you posted about the new courses we launch, our LA events and latest Language Atelier news.